Abstract: China has seen rapid development of its green bond market since 2016. Green bond investment is increasingly popular among financial institutions, highlighting the value of green bonds in responsible investment. The green bond indices have a broad sample space, showing an edge in return on investment. With reference to the ChinaBond green and sustainability indices, this article analyzes the recent development of China's green bond index constituents and looks into the return attribution structure and price advantages of green bond indices. It then suggests how to further promote green bond index investment to facilitate green finance development and support China's drive for "peak carbon emissions and carbon neutrality".
Keywords: green bonds, bond indices, investment performance attribution
Since the bond market competent authorities introduced a series of green bonds in 2016, China's green bond market1 has mushroomed. Green bond standards and disclosure framework have gradually improved, with a rising volume of new bond issues and outstanding bonds. With China initiating and stepping up a push for the goals of "peak carbon emissions and carbon neutrality", green bond investment has become increasingly popular among financial institutions. Green bond prices show a significant premium, highlighting green bond indices as a valuable investment instrument.
The Sample Space of Green Bond Indices Has Expanded Fast
China has a big enough sample space for green bond index investment. The constituents of ChinaBond Green Bond Composite Index, for example, are selected from green bonds with a remaining life of one month or longer in the interbank and exchange markets (excluding private placement bonds, floating-rate bonds, perpetual bonds and asset-backed securities). The index's market cap has kept rising in recent years. As of Q1 of 2022, market cap exceeded RMB850 billion with more than 700 constituent bonds (see Fig. 1) from over 300 issuers.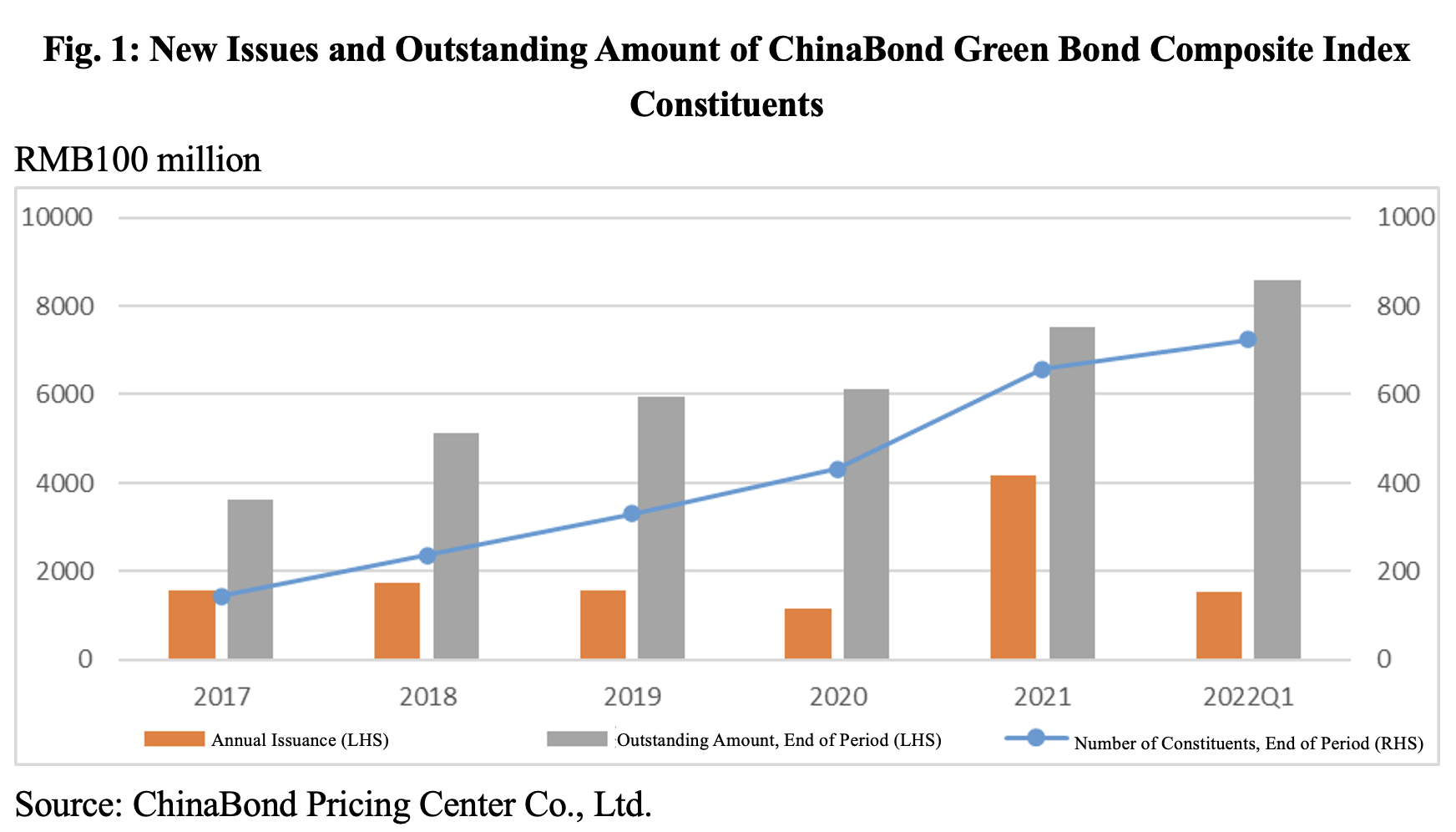 A wide range of green bond types meet the diversification demand of index investing. Various types of green bonds have been created in China's bond market. As of Q1 of 2022, the ChinaBond Green Bond Composite Index contained a significant proportion of green debt financing instruments (see Table 1). Green debt financing instruments, green financial bonds, green enterprise bonds and green corporate bonds each had an aggregate market size in excess of RMB100 billion.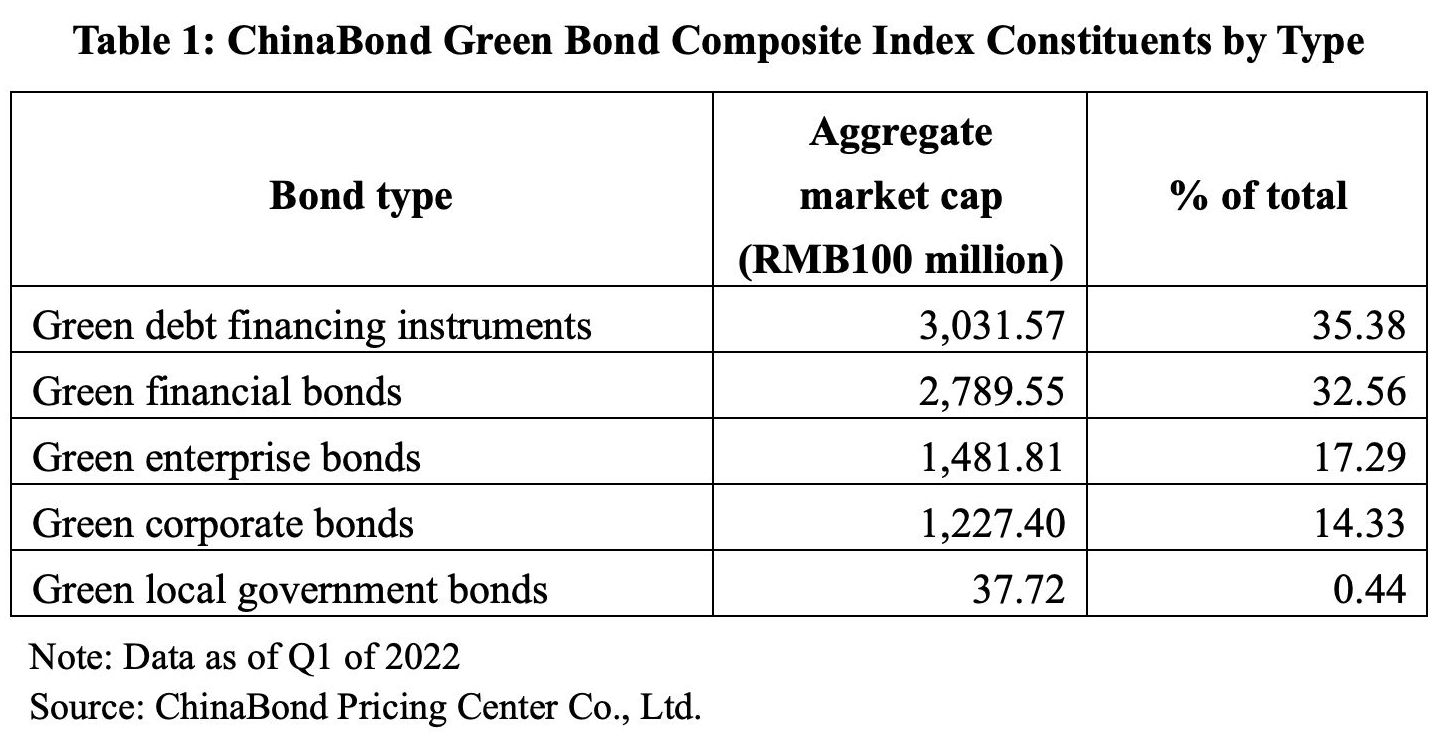 Issuers of green bond index constituents are increasingly diversified. Among ChinaBond Green Bond Composite Index constituents, bonds issued by financial institutions dropped significantly as a percentage of credit bonds from 74% at the end of 2017 to 26.06% at the end of Q1 2022 (see Table 2). By industry, the highest proportion of green bonds went to the production and supply of electricity, heat, gas and water, while a large value of outstanding bonds are also seen in transportation, storage and postal services, and construction.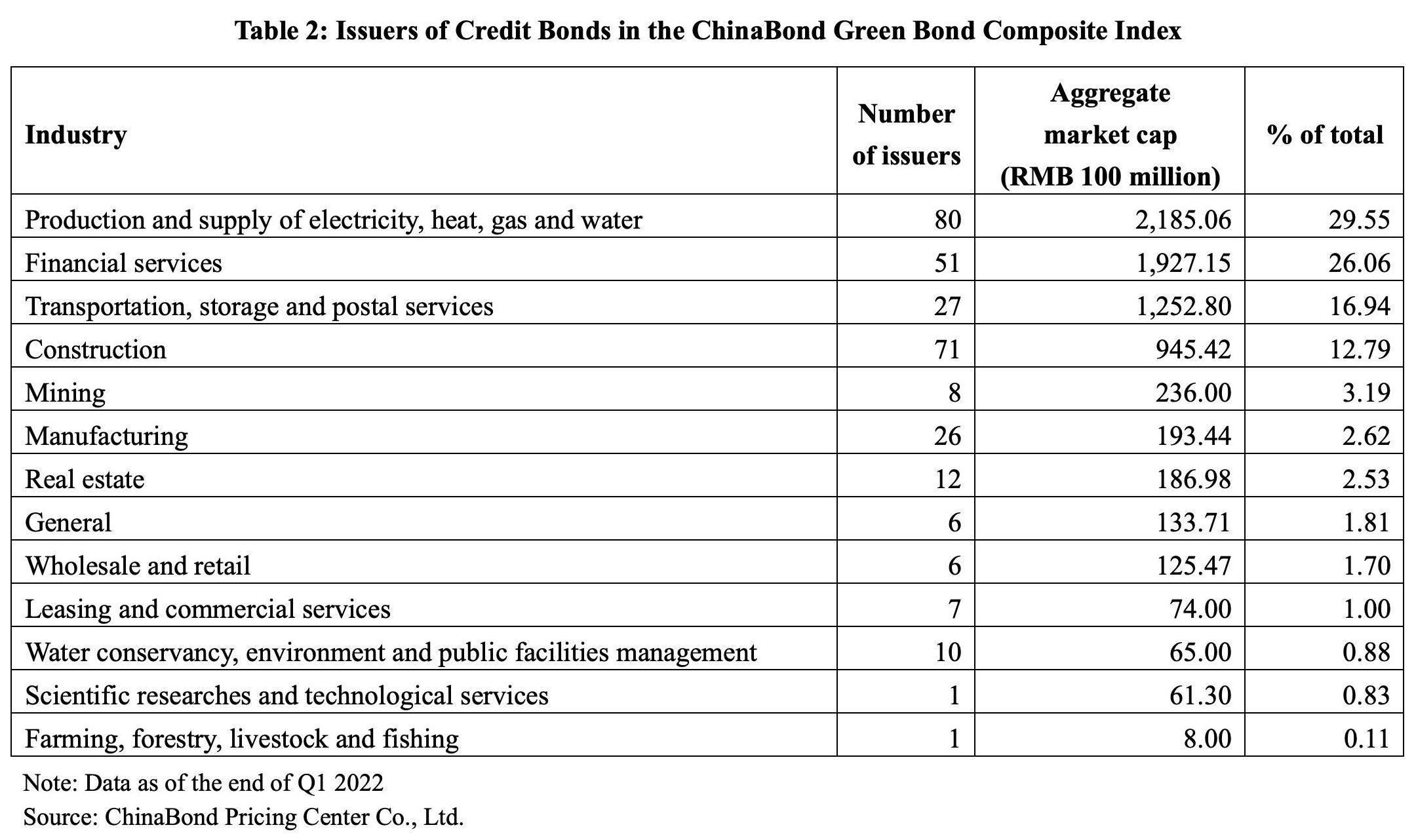 Green bond index constituents have better-than-average credit standings with no publicly offered bonds in default to date. As of the end of Q1 2022, 88.5% of ChinaBond Green Bond Composite Index constituents had a ChinaBond Market Implied Rating of AA or above2 (see Fig. 2).
Compared with ChinaBond Credit Bond Index, a significantly larger proportion of ChinaBond Green Bond Composite Index constituents were rated AAA+ and AAA.
In 2021, 5.2% of the ChinaBond Green Bond Composite Index constituents had their ChinaBond Market Implied Rating downgraded, which was lower than the average (8.4%) for credit bonds. 3.4% of index constituents saw their ChinaBond Market Implied Rating upgraded in the year, higher than the average (2.7%) for credit bonds.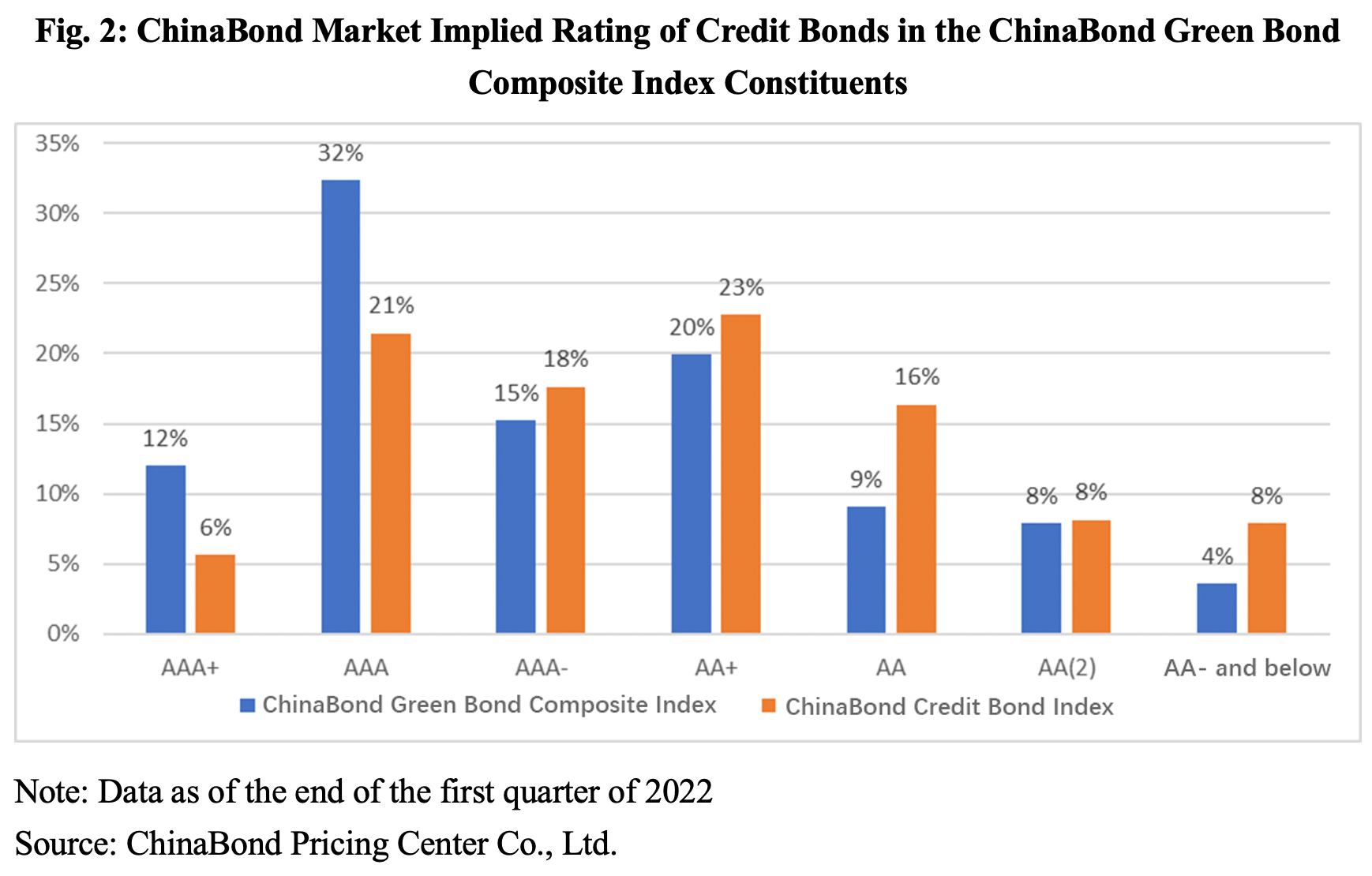 Analysis of investment value of Green Bond Indices
Green bond index investment has shown some advantages. Taking the ChinaBond Green Bond Composite Index and ChinaBond High Grade Green Corporate Credit Bond Index as examples, these two broad-based indices represent the trends of the overall green bonds and the high-grade green corporate credit bonds (for index rules, please see Table 3).
As shown by Fig. 3 and Table 4, the two broad-based indices have outperformed the ChinaBond Credit Bond Index in recent years.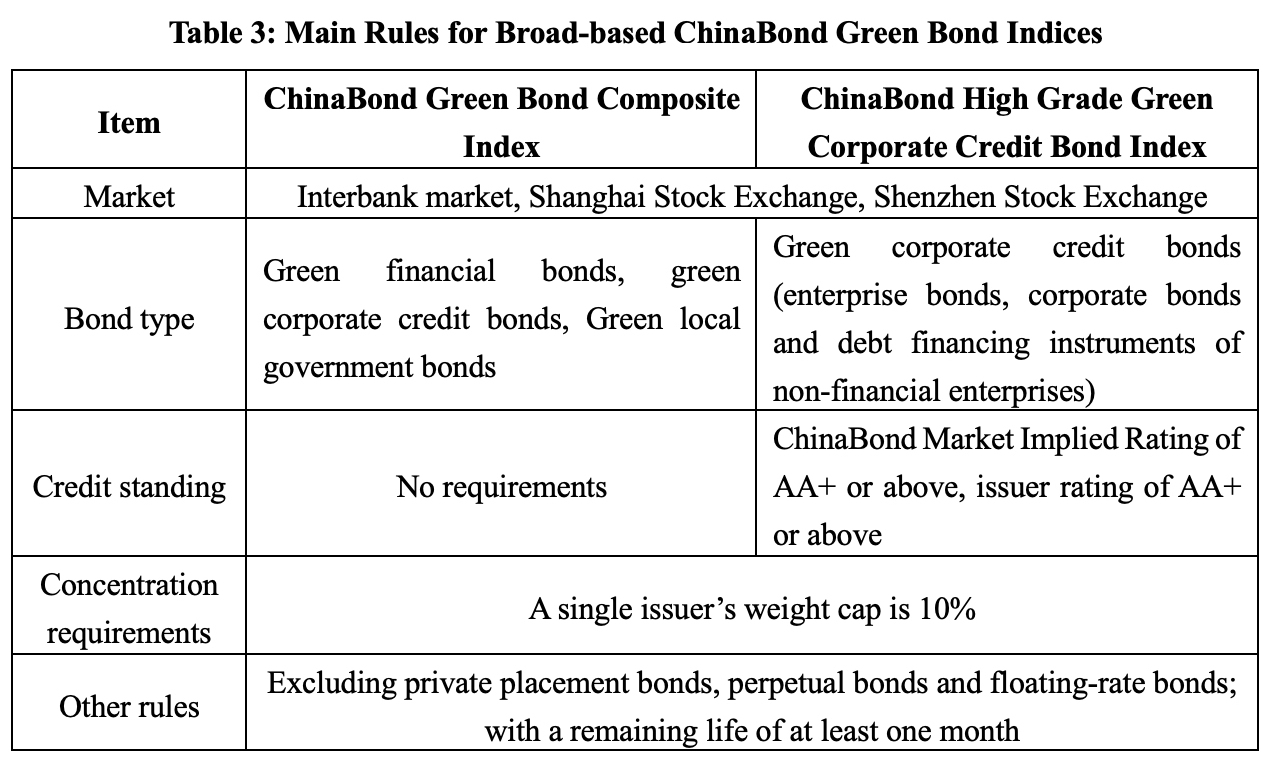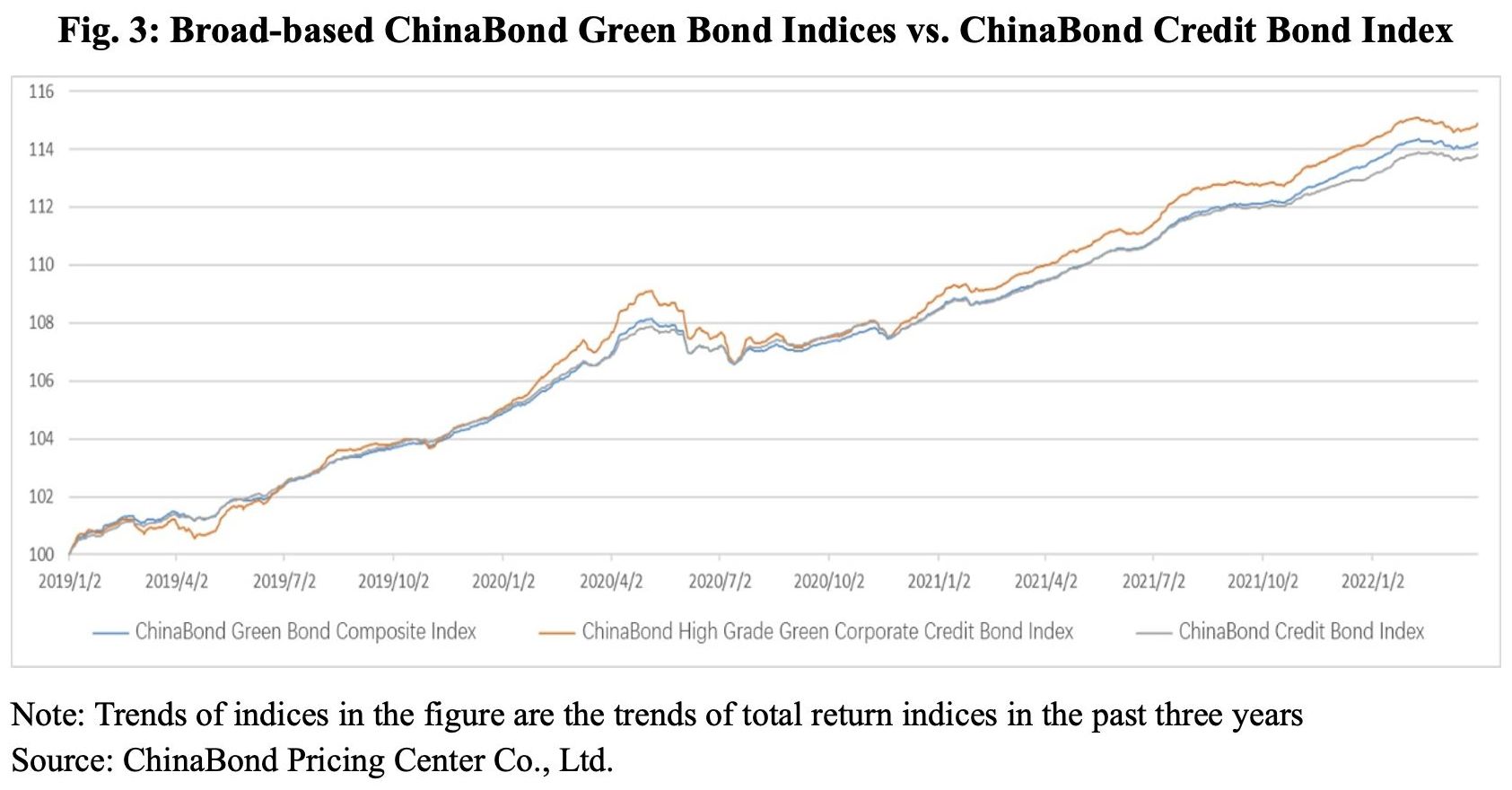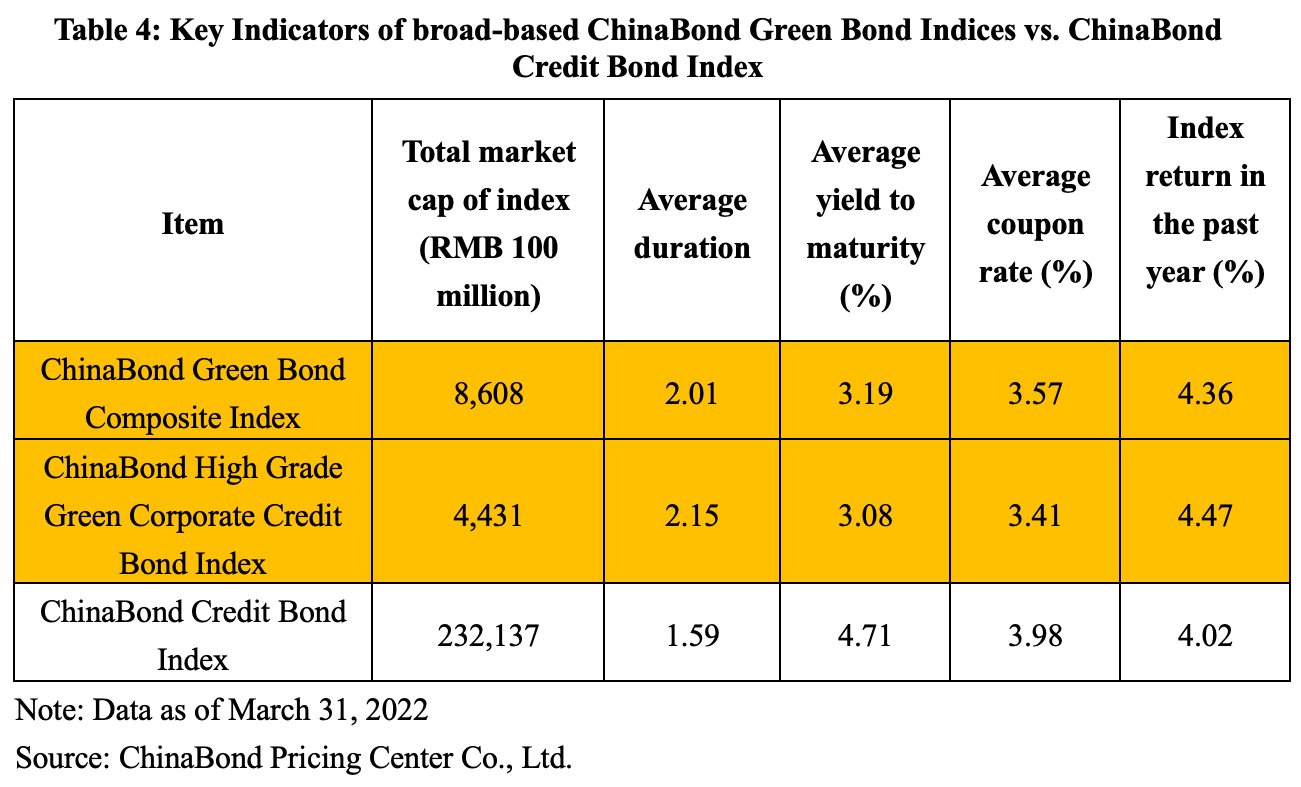 As shown by index performance attribution in 2021, the price return of green bond indices (especially the credit spread performance) is better than the market average of credit bonds. According to the performance attribution results of ChinaBond indices (see Table 5), investment in green bonds generally led to a higher return in 2021 as market interest rates went down, given the longer overall duration of green corporate credit bonds. Green bonds also showed more robust spreads as they generally have better credit standing and no precedent defaults in publicly offered bonds, providing effective compensation for the relatively low coupon return under high ratings.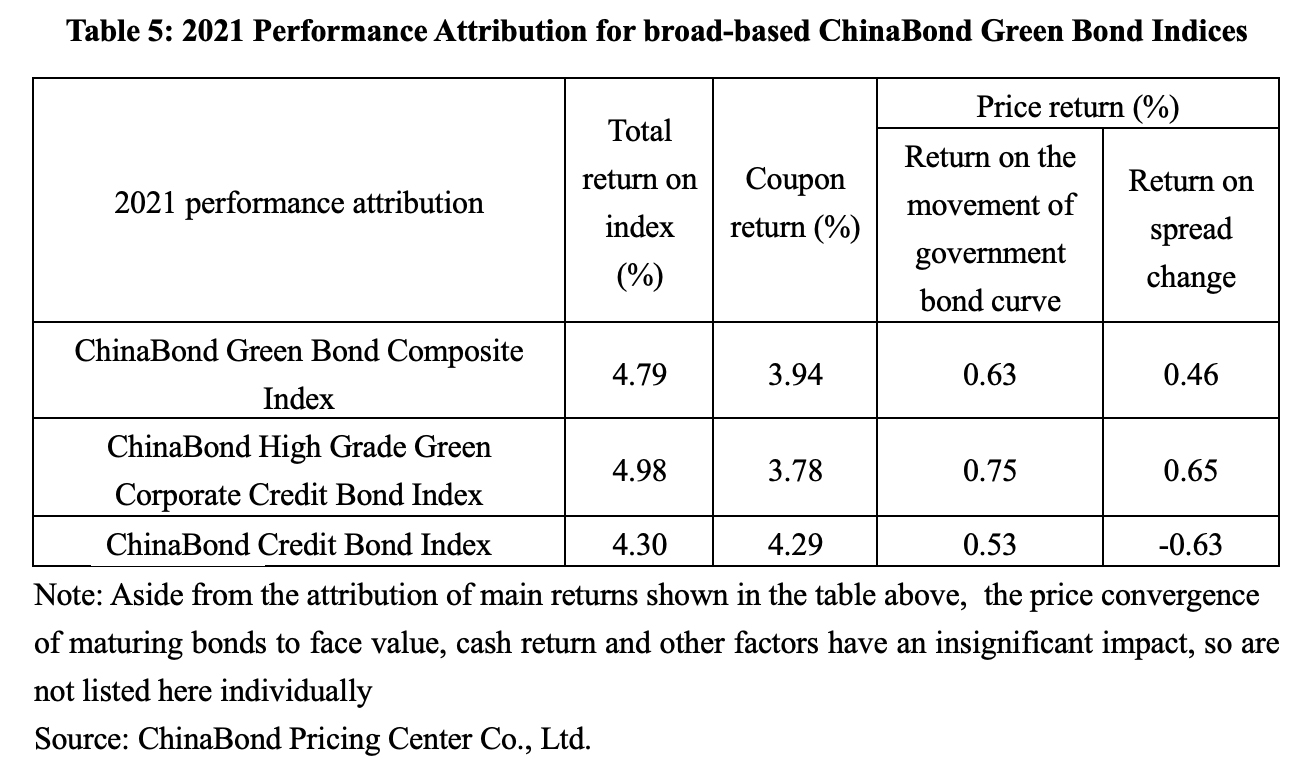 The rise in market demand has been reflected in a certain premium in the pricing of green bonds. This is one of the reasons why green bond index constituents have a price advantage. The value of green bonds in responsible investment has been gaining increasing attention in the market. After PBOC issued the Green Finance Evaluation Scheme for Banking Financial Institutions, higher requirements have been put on the holding of green bonds and the yield spread between green bonds and non-green bond with the same credit rating has become significantly differentiated.
China Three Gorges Corporation (CTG) is a good example. As of the end of Q1 2022, the market value of green bonds issued by CTG had reached RMB68 billion, accounting for 65% of all its outstanding bonds and making it the No.1 issuer with largest value of outstanding corporate green bonds in the market. The existing bonds of CTG have a ChinaBond Market Implied Rating of AAA+. Among its nine bonds with a remaining life of about three years, eight are green bonds and only one (issued in 2015) is non-green. According to the ChinaBond CTG Bond Yield Curve (3Y YTM) (see Fig. 4), the CTG bond yield began to move lower from the second half of 2021, reaching its largest spread at the end of the year, 20bps at a maximum below medium-term notes of the same term with a ChinaBond Market Implied Rating of AAA+. Though a convergence occurred later, a marked divergence happened again in the first quarter of 2022 and remains at present. In Q1 2022, the 3Y CTG bond yield was about 8bps below the yield of medium-term notes with a ChinaBond Market Implied Rating of AAA+.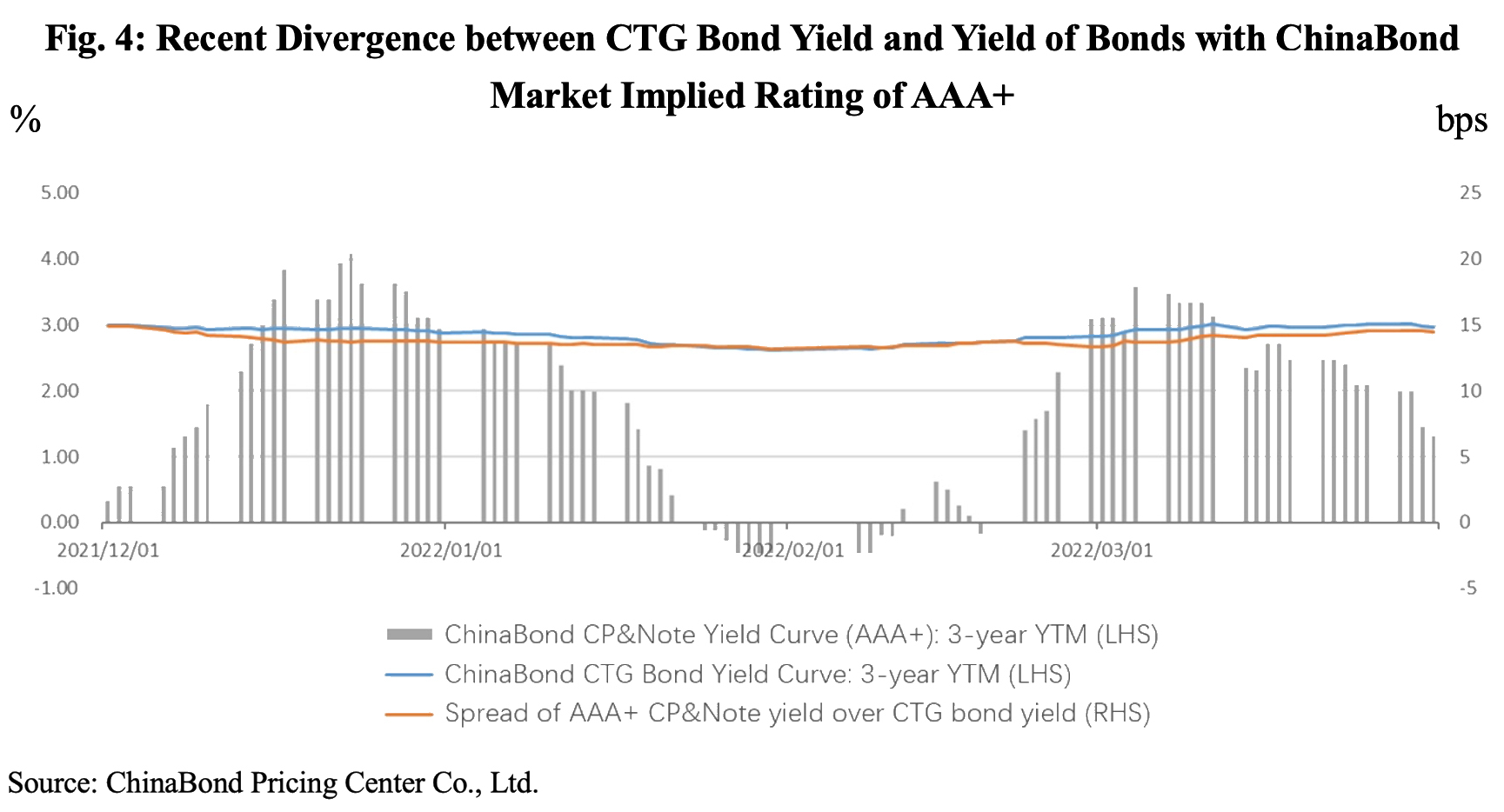 Suggestions on further promoting Green Bond Index investment
i. Standardizing green bond information disclosures
Currently green bond information disclosures vary in quality. Some investors find it difficult to accurately identify 'labeled' green bonds as there are inconsistent identification criteria leading to different results. To enhance green bond information disclosure requirements, it is suggested to include as much information as possible on third-party assessment and certification. It is also suggested to disclose the environmental impact of green bonds via CCDC Green Bond Environmental Benefit Info Database, to enhance reporting and transparency and to keep improving the quality of disclosure by accepting market supervision and other quality control mechanisms. Market participants are advised to use the green bond labels offered by CCDC. As a core financial market infrastructure, ChinaBond Pricing Center, a subsidiary of CCDC, has done significant work on green bond identification to facilitate the compilation of ChinaBond indices. With a leading bond database built on more than 20 years' practice in the bond market, ChinaBond Pricing Center has overcome poor quality disclosure and other common market difficulties and adopted fintech, high-quality data analysis and verification processes to ensure the integrity, timeliness and accuracy of green bond identification. Its efforts have been widely recognized in the market.
ii. Enhancing the incentives for green bond investment by financial institutions
To further enhance the driving force for green bond investment and ensure effective financial market support for the implementation of national strategies, it is suggested that, for banking institutions that have started green finance evaluation, to additionally evaluate investments in green bond funds, especially index-based products, as they enable see-through to investments in specific bonds and thus facilitate quantitative assessment. This recommended practice would create an incentive mechanism for financial institutions to join the push for green financial business and fuel a continuous influx of additional capital to support green financial reform and innovation.
iii. Promoting global use of green bond investment index products
Currently there are 24 indices in the ChinaBond green and sustainability index series, covering green bonds, carbon-neutral bonds and environmental, social and governance (ESG) factors. These indices provide investors with diverse investment instruments and performance benchmarks. A number of financial institutions have used ChinaBond indices to launch their green bonds, ESG-themed wealth management products and other related asset management products. With a growing number of green bond indices, financial institutions at home and abroad are advised to create more funds, wealth management products and other products that use China's green bond indices as underlying indices or performance benchmarks, thereby involving more investors in green finance.
Notes:
1. Green bonds in this article refer to bonds used to support green industries or green projects that conform to policy requirements as approved by competent authorities.
2. In 2021, bonds with a ChinaBond Market Implied Rating of AA or higher had an actual default rate of 0.15%.
Wu Junxiao, from the Index Department of ChinaBond Pricing Center Co., Ltd., is the author of this article.
Editors in charge: Tu Xiaofeng, Yin Ying
To learn more about ChinaBond Pricing Center and the ChinaBond Indices, please click here.